Latest news
News - Service - Contact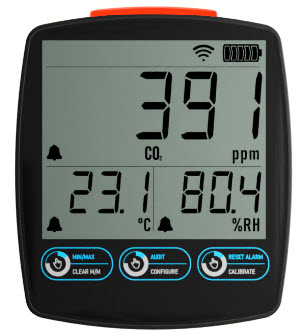 Need to Monitor Air Quality?
Now available, the cloud-connected EL-IOT-CO
2
continuously monitors air quality and comfort levels, including temperature, humidity and CO
2
, a key indicator of adequate ventilation.
Giving you the real-time data you need to take informed action to improve air quality, EL-IOT-CO
2
is perfect for a wide range of applications in public, educational, healthcare, commercial and industrial facilities.
Measures:

Temperature
Humidity
Carbon Dioxide (CO

2

)

Wi-Fi connected
Automatically uploads data to the EasyLog Cloud
Displays current, maximum and minimum readings
Status indicator and sounder
Set up real-time alarms and remote notifications by email or SMS
CO

2

sensor automatically self-calibrates

Monitors temperature, humidity, and CO2




Automatically uploads data to the EasyLog Cloud




LCD display shows current, maximum and minimum readings




Customisable alarm limits

Typical battery life of six months or can be mains powered



CO2 Measurement
Range 0 to 40,000ppm
Accuracy 400 to 2,000 ppm ±(50 ppm +5% of reading)
Resolution 1ppm
Auto-calibration Yes
Units ppm
Temperature Measurement
Range -20 to +60°C (-4 to +140°F)
Accuracy ±0.3°C (±0.54°F) typical
Resolution 0.1°
Units °C or °F
Relative Humidity Measurement
Range 0 to 100%RH
Accuracy ±2% typical
Resolution 0.1%
Dew Point Accuracy* 1.5°C typical (40 to 100%RH)
Data Logging Rate 10 seconds to 12 hours (user selectable)
Transmission Interval 1 minute to 24 hours (user selectable)
Internal Memory 300,000 readings
Dimensions 97 x 87 x 33mm
Operating Temperature
Battery Power -18 to +55°C (0 to +131°F)
USB Power -20 to +60°C (-4 to +140°F)
Environmental Rating IP4X

The EL-IOT-CO2 continuously monitors air quality and comfort levels, including CO2 , a key indicator of adequate ventilation.
It automatically uploads data to the EasyLog Cloud, allowing your complete set of data measurements to be viewed, analysed and downloaded from any internet-enabled device.
It takes only a few minutes to set up your EL-IOT-CO2, and you can configure your own high and low alarms for each measured parameter.
If one of your set levels is breached an instant alarm is activated on the device, and notification options include email and SMS messages to your chosen contacts.
The display shows current, maximum and minimum readings for carbon dioxide, temperature and humidity, as well as alarm and device status.
The EL-IOT-CO2 runs from a USB power supply (supplied with the product) and can use AA batteries to provide a short-term backup if the power supply is interrupted.
It is also provided with a wall mountable bracket for easy installation.
CO2 CALIBRATION
To maintain the accuracy of your EL-IOT-CO2, there are two calibration features on the device.
Automatic self-calibration ensures the long-term stability without the need for any manual action from the user.
This method of calibration assumes that the sensor is exposed to atmospheric CO2 concentrations of ~400ppm at least once per week.
Manual recalibration can be carried out to restore the accuracy of the CO2 reading immediately; expose the device to fresh air by placing it outside or next to an open window. Press the CALIBRATE button to start the process and the display will change to show you it is under way.
After a few minutes the process will finish and the display will resume showing the current readings.
If there are any issues during the process, a warning screen will inform you.
Ensure the supply of fresh air is adequate and try again.
If your EL-IOT-CO2 ever needs you to carry out a manual calibration, it will prompt you to do so.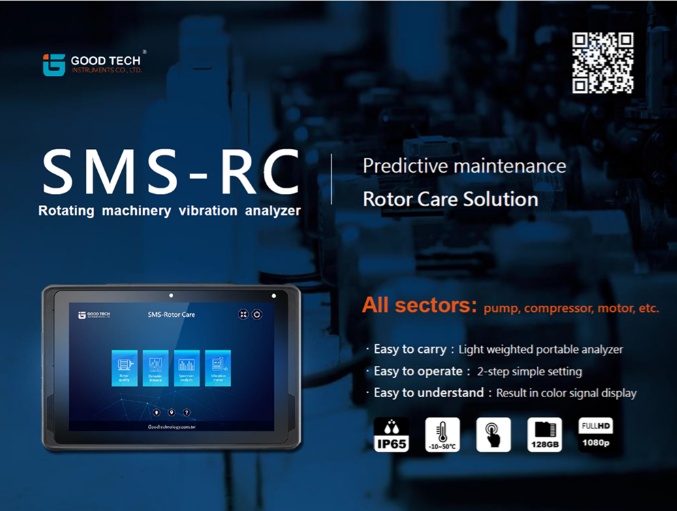 Do you want reliable tools to predict motor quality and performance in development and production?
Do you want to reduce scrap and increase process yield?
This Omni functional vibration analyzer is capable of 80% of machine fault detection, including bearing damage, imbalance, shock pulse, and root cause analysis. Featuring full touch panel operation frees the hassle of complex function keys. Built-in the most comprehensive criteria for different machine types, from small to large, including motor, compressor, pump, turbine and gearbox, simplifies the settings in less than 3 steps. High-resolution display and powerful algorithm enable no dead angle in equipment status.
Detect 80% rotating mechanical faults on site, with no need for additional post-analysis SW.




Auto bearing damage detection is compliant with ISO 20816, 10816, and 2372 norms.




Auto imbalance detection is compliant with ISO 1940 norm.




Innovative shock pulse identification outperforms conventional C.F. (Crest Factor)




TWF display




FFT with 10k lines resolution




Machines and measurement points library designed for novice users




Library of spectrum characteristic patterns for root cause analysis




Full touch panel smooths user experience




Analytics result in graphics and sharp color indications.




Integrated with the most comprehensive ISO provisions to free complex machine settings.




Up to 128 GB storage



Applications:
All-sector Rotating Machinery inspection




Acceptance review for returning motors




Precision maintenance




Machine availability improvement




Condition-based maintenance




Predictive maintenance




Nondestructive testing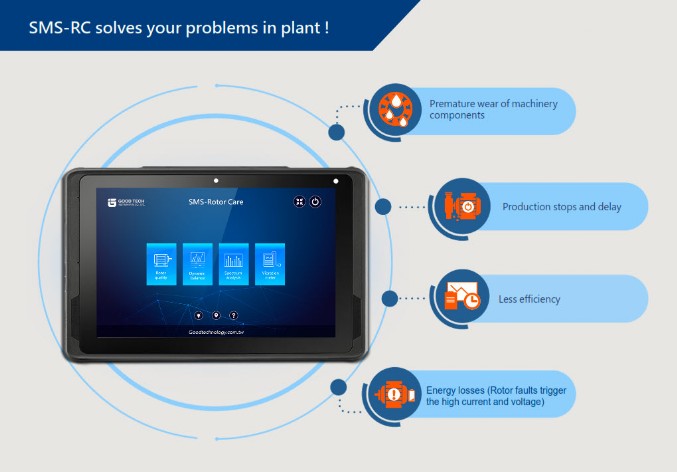 Erichsen GMBH innovates
Cross hatch cutting 4.0 - A robot never gets tired
Fully automatic version of the SCRATCH HARDNESS TESTER with a robotic arm!
Automatic Scratch & Cross cut on curved surface!
24 hours a day of automatic production control !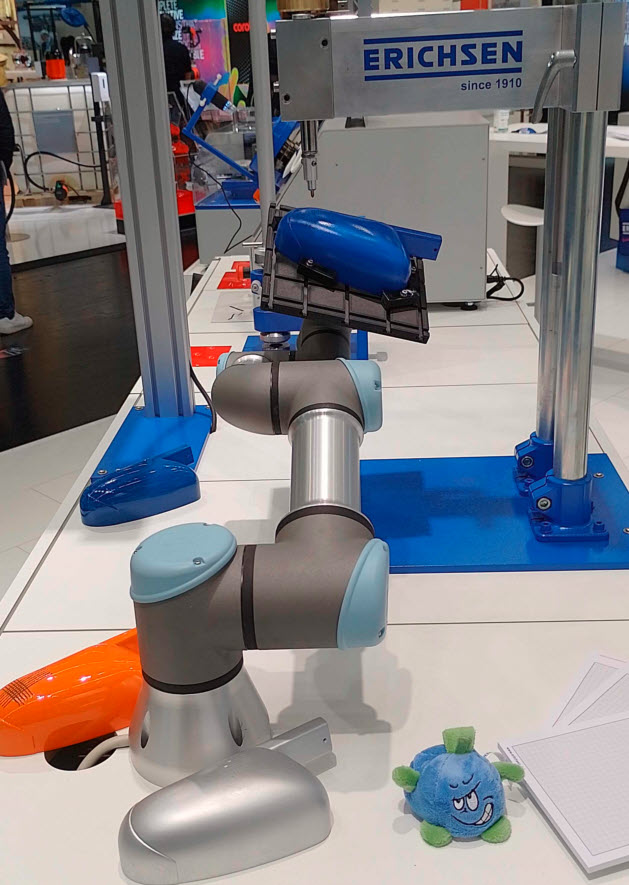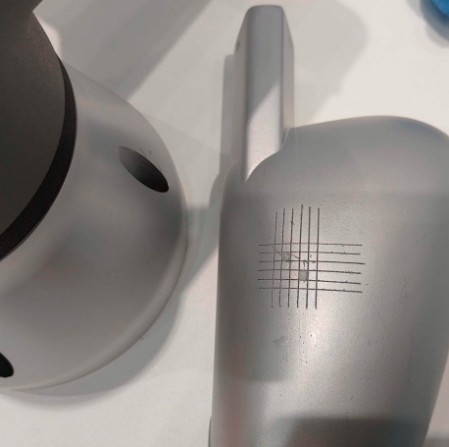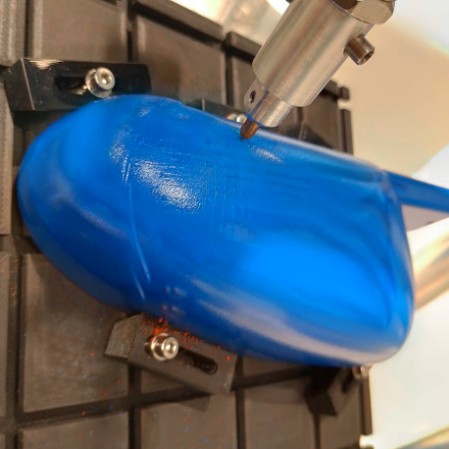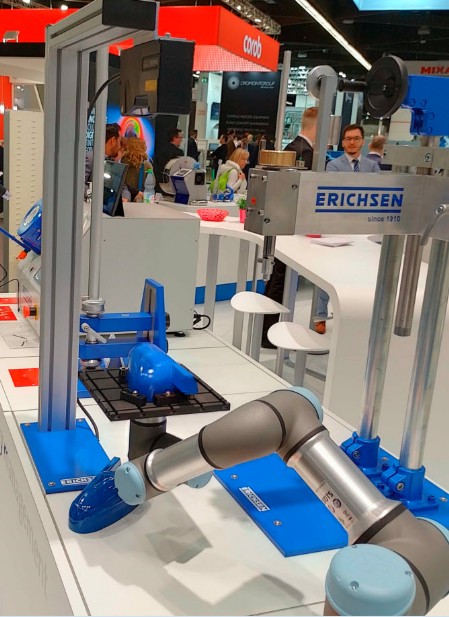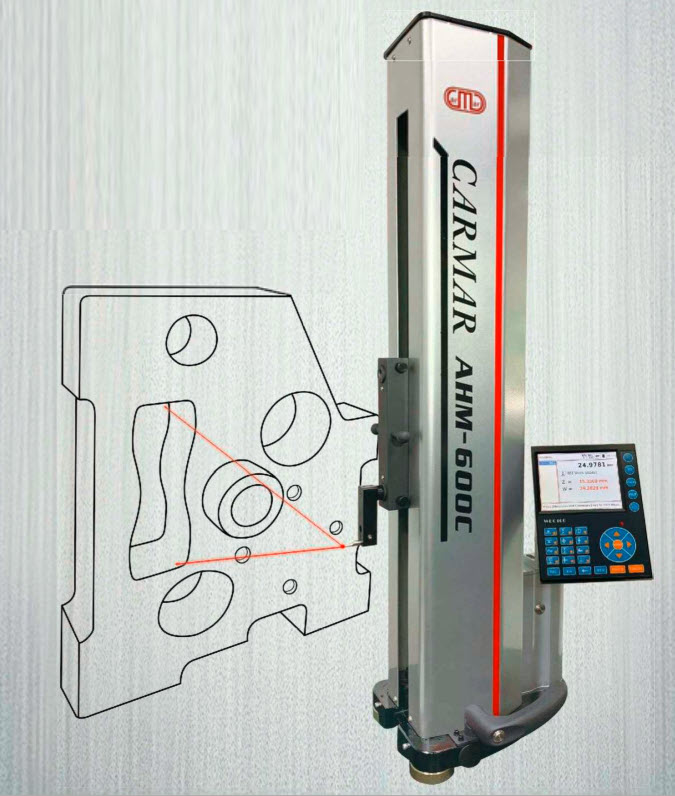 Carmar Auto Height Measuring Instrument is a standing
digital con-coordinate measuring machine based on
precision machinery, modern sensor technique and
electronic technology. lt is widely used in precision
machinery, hardware, p
lastic, etc.
lt can be used to measure the distance between two
planes, depth of hale, groove wrdtb, and diameter, center
distance, maximum and minimum value of hale and
groove.
ln addition, when conhgured with electronic
probe, it is possible to measure verticality
Model AHM-450C AHM-600C
Effective measuring range 450 mm 600 mm
Max. measuring height (mm 770 (change probe's direction) 920 (change probe's direction)
Accuracy (μm) 2+L/500
Verticality of front (um) 6 8
(after e-probe is amended)
Repeatability :
plane: 1.0μm. curve: 2.0μm
Speed recommended(mm/s) 15
Max. electrical speed(mm/s) 25
Max. Manual speed (mm/s) 400
Power supply 12V rechargeable battery pack
Air supplyair pressure ≧0.4Mpa, flow≧30/min
Temperature 10-40°C
Weight(kgs) 36 40
Total height (mm) 900 1050
Carmar Auto Height Measuring Instrument
the distance between two planes,




depth of hole,




groove width, and diameter,




center distance,




maximum and minimum value of hole and groove.



In addition, when configured with electronic probe, it is possible to measure verticality.
Features:
1. Outstanding accuracy performance, 2+L/500μm, Repeatability in plane: 1.0μm
2. One-touch functions allow multiple metrology measurements.
3. Pneumatic floatation in pedestal makes it easy to measure.
4. Granite Pneumatic floatation mechanical structure, high accuracy and small deformation at temperature difference.
5. Auto measuring- high efficiency, and high stability and reliability.
6. Verticality measuring is available for option.
7. Output data to RS232 allowed.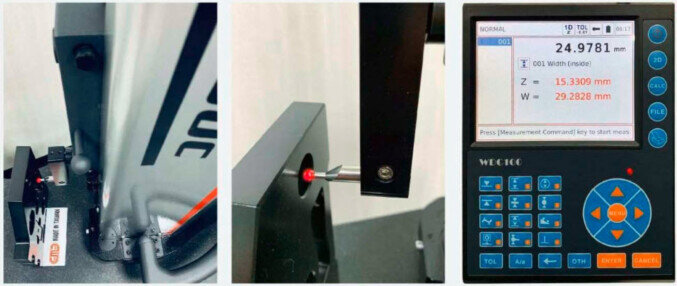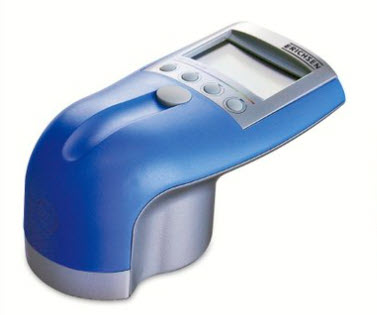 Spectrophotometer, precise colour representation using numerical values, 45° geometry
Colour and glossiness are what characterize the appearance of an object.
Two samples of the same colour but with different glosses do not visually look the same: the glossy surface is perceived as darker and more saturated.
Both of these effects must be well controlled in order to achieve a consistent appearance.
In comparison with the colour meters from other suppliers, the SPEKTROMASTER measures colour and gloss at the same time!
The reason for any deviation can be clearly determined in any situation.
For color measurement, there have been two different methods established, each specifically preferred by the users due to the concerning desired application:
45°/0°
For measurements due to the allusion to a visually valued impression.
Also for a lot of Automotive relevant applications as well as oftentimes for measurements within the final inspection.
8°/d
(Sphere acc. to Ullbricht) For color matching/ recipe matters, pigment testing, measure- ments of color alternation after weathering exposure.
Generally also for reception control.
The SPEKTROMASTER 565
is available in two versions, each attached with one of the two measuring geometries.
Wireless Alert TP Temperature Alert System
Wireless Alert TP is a battery-powered temperature sensor that sends a warning email if a user-set level is reached.
Simply select your temperature limits, add an email address and connect to any Wi-Fi network using the Wireless Alert mobile app.
-40°C to 125°C temperature probe with 1.5m cable

User-configurable high and low temperature limits

Sends email alerts and scheduled status reports

Flashing alert indicator

Wi-Fi connected

Simple to set up using the free mobile app

Two years' battery life (dependent upon usage scenario)

Batteries included

No ongoing subscription fees

Includes sticky pad for wall mounting

The sensor overall cable width Is 3.65mm, height is 1.65mm
To control in a very economical way your fridges, freezers, warehouses, stores, offices, labs, buildings ...
The Wireless Alert TP can be set up to monitor temperature limits in a variety of applications.
High and low temperature limits are user-configurable between -40 and 125 °C.
The device will trigger a notification email, sent to a user-selected address, if the temperature limits are breached and when the temperature returns to normal. I
In addition to this, the device can send a scheduled summary email detailing minimum, maximum and average temperature, as well as battery level, number of alerts, and total time spent in alert.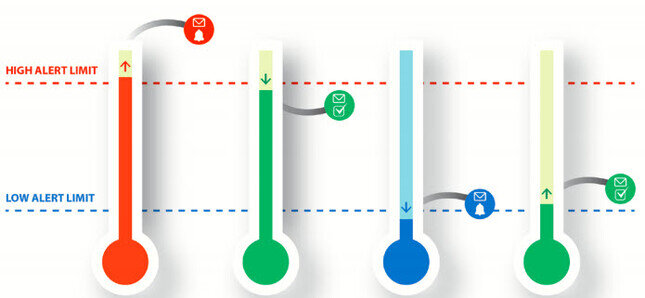 OTHER MODELS AVAILABLE :
Temperature & Humidity


Door Contact




Leak Detection (monitors a surface for liquid)




Pipe Temperature Sensor




Contact Monitor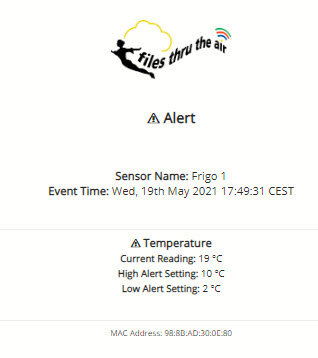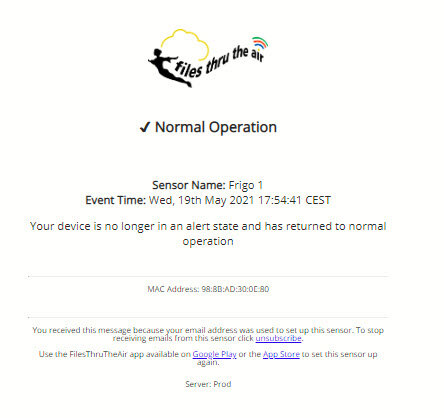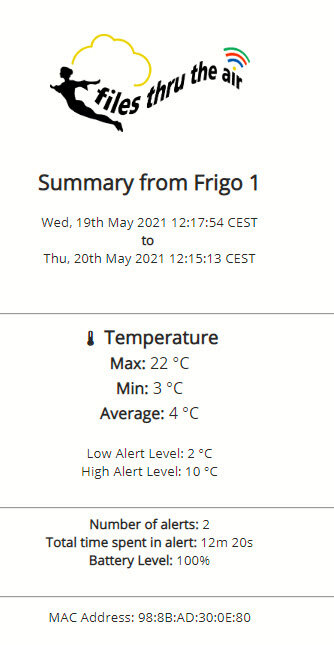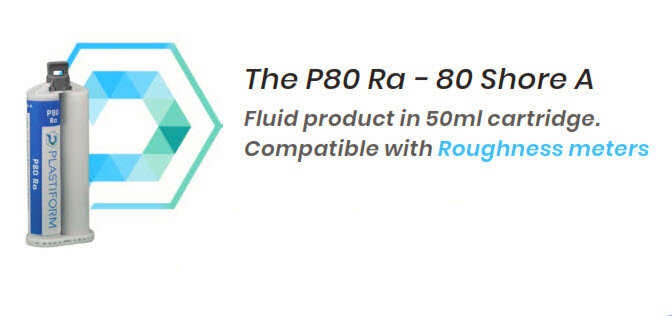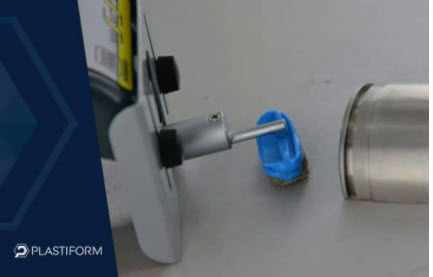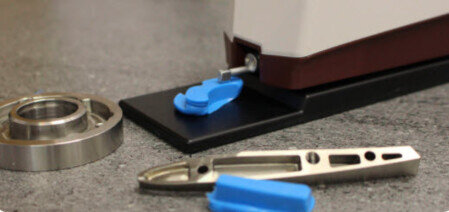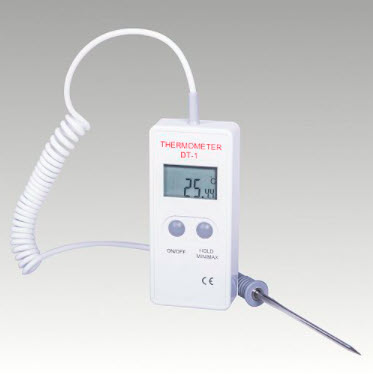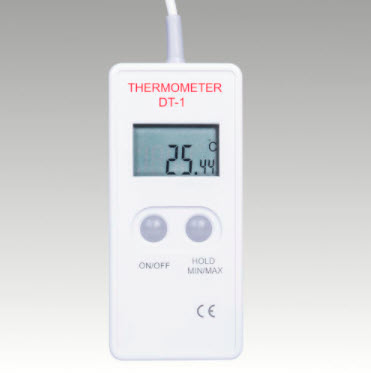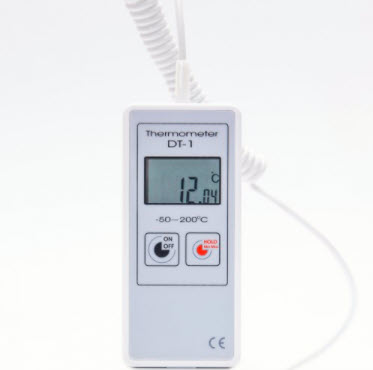 Multifunction 0.01°C resolution temperature meter.
High accuracy food laboratory digital thermometer DT-1 can be used in food industry, research institutions and laboratories to control and measure temperature over the range of -100°C to 270°C with 0.07 °C accuracy.
Response time less than 5 sec.
The device was made of ABS material.

Water liquid catering digital thermometer DT-1 is as standard supplied with permanently attached ST01-1100 food penetration sharp-tipped probe 3.3x100mm with PT-1000 sensor and a one meter length curly cable.
Probe easily lances semi-solid products such as fruits, vegetables and cheeses. The probe can also handle liquid and air measurements. Other probe size, length available on request.
We manufactures customized probes for thermometer DT-1 on request.

Pharmacy unversal resistance digital thermometer DT-1 features a easy to read display with max/min function, hold function and low battery indication.
Battery included.

General purpose thermometer DT-1 can be manufactured with any of temperature platinum probe from our offer.

Features:
measuring in °C

resolution 0.01°C

display minimal and maximal temperature

low battery indication

high accuracy

PT 1000 sensor

hold function

simple and fast control
Specifications
Sensor platinum PT-1000
Temperature range -100 ° C to 270 ° C
Operating temperature 0 ° C to 40 ° C
Resolution 0.01 ° C
Accuracy from -10 ° C to 100 ° C: - / + 0.07;
from 101 ° C to 150 ° C :- / + 0.15
Measuring probe standard diameter 3.3 mm, length 100 mm, other size on request
Maximum and minimum temperature YES
Dimensions 45 mm × 100 mm × 19 mm
Protection IP65-electronics,
IP67-probe
Power 1x lithium battery 3.6V (1 / 2AA) included
Cable length standard 1 m, other size on request
Weight 85 g
Operating temperature for cable and handle 100 ° C
Hold function YES
Probe coversensor's cover material: acid-resistant steel SS 321
Response time less than 5 seconds
Low battery indication YES