Wireless Sensor Full Digital
Digital signal processing

SmarTest: Intelligent Bluetooth sensor for coating thickness measurement
SmarTest is an intelligent wireless sensor for non-destructive coating thickness measurement and relays sensor data via Bluetooth to your tablet, smart phone or to the coating thickness gauge MiniTest 745.
The radio sensor SmarTest is 16 mm in diameter and 125 mm in length somewhat like a thick ballpoint pen and weighs just 48 g.
This means that you can carry the SmarTest with you anywhere.
The standard scope of supply comes with the F 2.6 or FN 2.6 sensor, which has been specially optimised for measuring on thin auto body sheets and can be used for a sheet thickness downwards of 0.3 mm.
You can connect any SIDSP sensor to SmarTest and cover a wide range of coating thickness measurement tasks.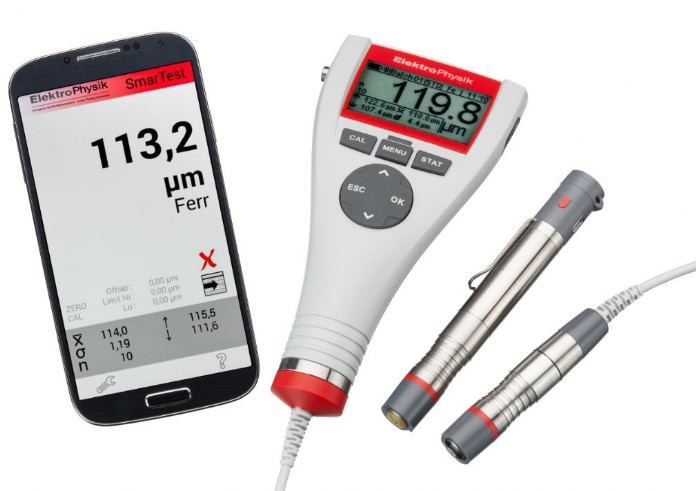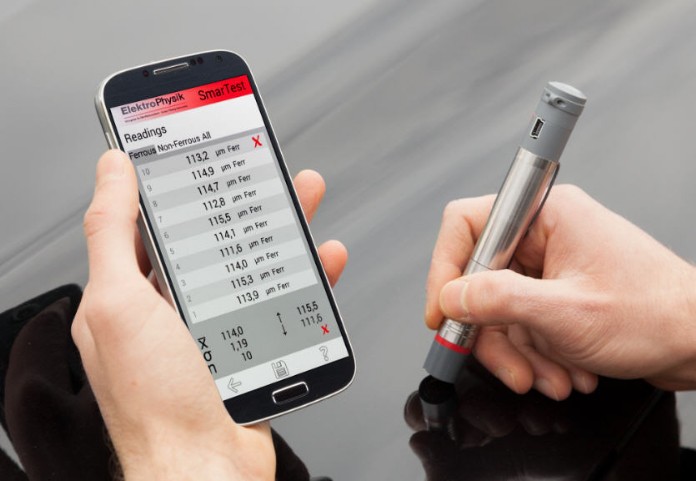 Operation
It is very simple to operate the SmarTest:
•Start the SmarTest app on the mobile device
•Switch on the wireless sensor and the Bluetooth connection is established automatically
•Take measurements
The SmarTest app helps you through all steps with context-sensitive help texts in 4 languages currently.
Measuring Modes
There are two measuring modes available:
•Single value mode
The measurement values are taken individually and displayed. This enables you to take coating thickness values of the object to be measured at multiple points and then to evaluate them statistically.
•Continuous mode
After placing the sensor the measuring values are taken continuously and displayed. This mode is suited for calculation of layer thickness distribution on a restricted surface and to locate the thin and thick sections. The measuring values calculated on continuous mode can be saved in the statistics by briefly pressing the power button.
Control / Data Transfer
Sensor control and data transfer of the measuring values is done via Bluetooth 4.0 / Bluetooth Smart (low energy). The sensor and mobile device can be placed about 10 m away from each other, even farther under good transmission conditions.
App Functions
The SmarTest app shows the current measuring values, the statistical evaluation and helps store control and calibration of the sensor.
There is an option of the metric (μm, mm) and imperial (mils) formats for display and processing of measuring values.
Storage and transfer / download of measuring values is done in the CSV format.
AVAILABLE FOR FREE FROM :
in the "Downloads" section
Calibration
Three calibration modes are available:
• Manufacturers calibration
• 1-point calibration on the uncoated object to be measured (zero point calibration)
• 2-point calibration (zero point calibration + 1 layer/sheet)
Measuring range
F 2.6:
F: 0 ... 2.6 mm
FN 2.6: F: 0 ... 2.6 mm
N: 0 ... 1.3 mm
Measuring method F:Magnetic induction
N:Eddy current
Accuracy ± (1 µm + 0.75% of reading)
Repeatability ± (0.5 µm + 0.5% of reading)
Low range resolution 0.05 µm
Minimum curvature radius convex: 1.5 mm
concave:7.5 mm
Minimum measuring area Ø 5 mm
Minimum substrate thickness F:0.3 mm
N:40 µm
Operating temperature
-10 °C ... 60 °C / 14 °F ... 140 °F
Storing temperature
-20 °C ... 70 °C / -4 °F ... 158 °F
Bluetooth Smart®
Mini-USB connector for charging, power suppy and data transfer
Power supply
LiFePO4 battery
operating time approx. 8 hours continuous operation
Norms and standards D
IN EN ISO 1461, 2064, 2178, 2360, 2808,
3882, ASTM B244, B499, D7091, E376
Dimensions
125 mm x Ø 16 mm

Recommanded probes
Ref.
Description Range
10080-135-0200 FN 1.5 0...1500 µm (F)
10080-135-0000 F 1.5 0...1500 µm

10080-135-0100 N 0.7 0...700 µm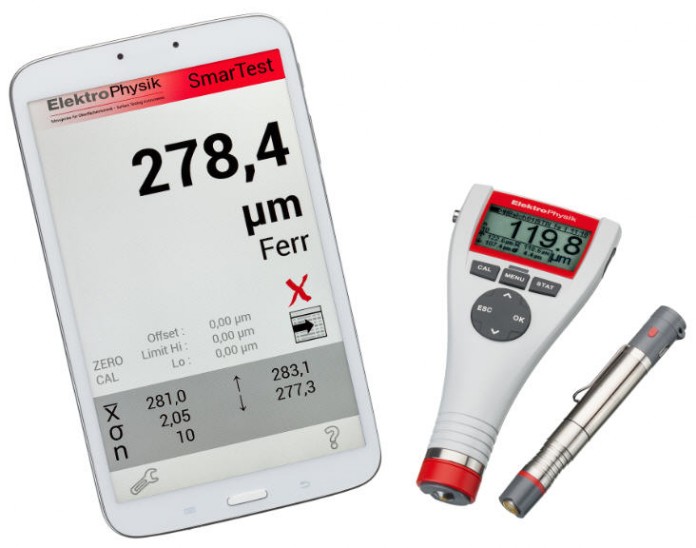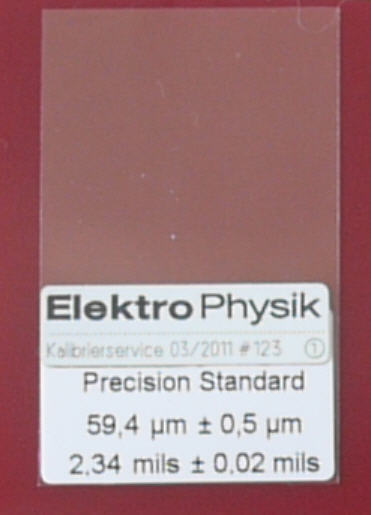 Calibration foils
Calibration foils with thicknesses ranging from 10 μm up to 8 mm
Option: Manufacturer's certificates M according to DIN 55350 part 18 proving the accuracy of calibration foils and/or gauge