Special Thermometers
Laboratory Product > Glass Thermometer
Special Thermometers
Adjustable Contact Thermometers with Rotary Setting Magnet,
standard cap, milk glass scale, Hg filling, capillary yellow backed, upper part 245x18-19mm.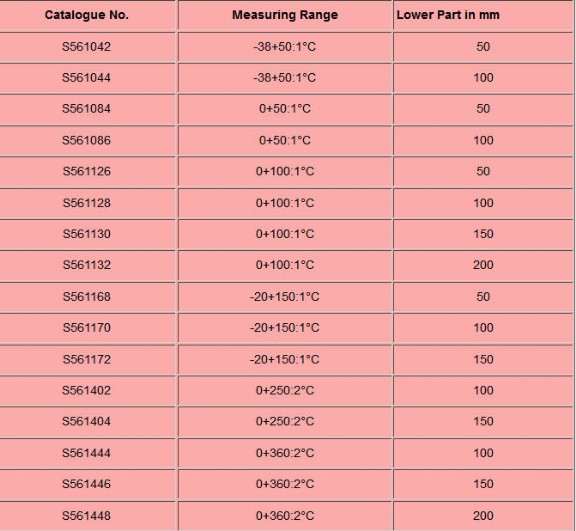 Adjustable contact thermometers,
as above, but with short upper part: 135x18-19mm also available
Adjustable contact thermometers are available in the following types:
DIN-caps

instead of standard caps.



Safety mounting according to DIN 12 878

,

protection class 2, safety shut-down in case of interference or breakage of thermometer.



Two-pin moulded caps with femate plug

and cord of 40cm instead of standard cap.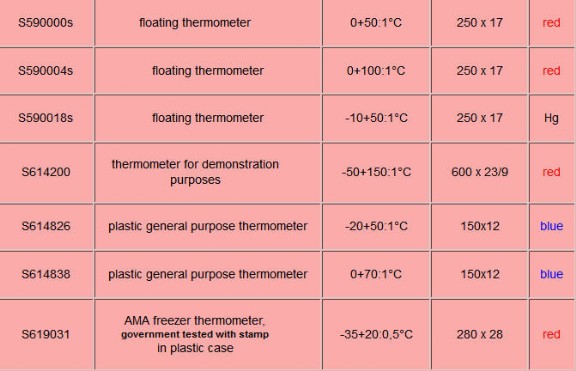 Brewery control thermometers,
e.g. large tube hydrometers, beer boiling and sweet wort hydrometers, pocket saccharometers.
Indoor and Outdoor Thermometers, Barometers, Hygrometers, Weather Stations,
suitable for government testing and government tested with verification certificate, as Maximum-Minimum thermometer, indication type with red or blue filling and mercury blue reflecting and dial types (bimetal), on wooden or plastic base.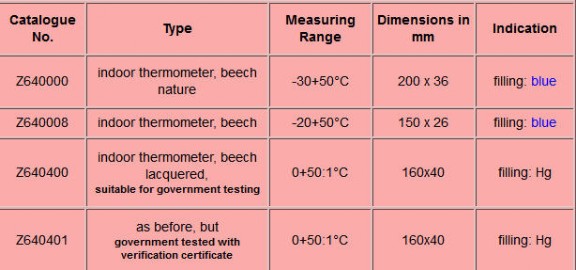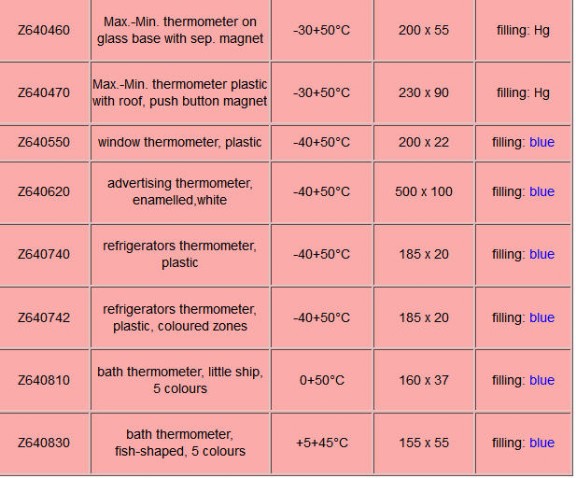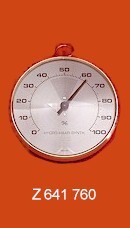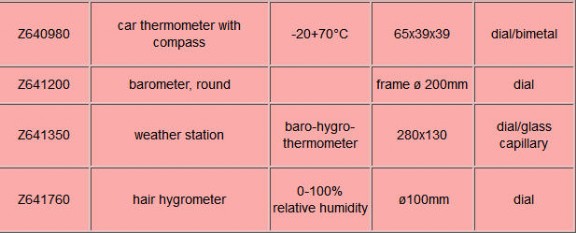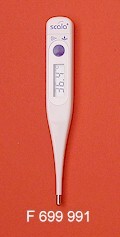 Clinical Thermometer, Digital,
+ 32 + 42 : 0,1°C, water proof with signal, CE-tested.
Catalogue number :
F700001
Clinical thermometer, glass,
enclosed scale, + 35 + 42 : 0,1°C, CE-tested, c. 130mm long.
Catalogue number :
F700231
Veterinary medical thermometer,
glass, oval enclosed scale, CE-tested, c. 140mm long.
Catalogue number :
F700231









ECONOMICAL FRIDGE THERMOMETER




Freeze, refrigerator plastic thermometer.

Measuring range : -40°C ... + 40°C

Display : 1°C




Sold by 6 units minimum